In 2021 one of his dreams came true when pianist, composer, and arranger Chris Muller brought together eighteen musicians in Amsterdam to form the Chris Muller Bigband. The band has grown to be one of the youngest professional big bands in the Netherlands and consists of the greatest talents in the Dutch jazz scene.
The youthful character of the band is complemented by the bandmembers' experience, who are active in various Dutch orchestras. Several musicians regularly appear in the Jazz Orchestra of the Concertgebouw and the Metropole Orkest. Also, many band members have played in the Nationaal Jeugd Jazz Orkest and the Jong Metropole at both national and international venues.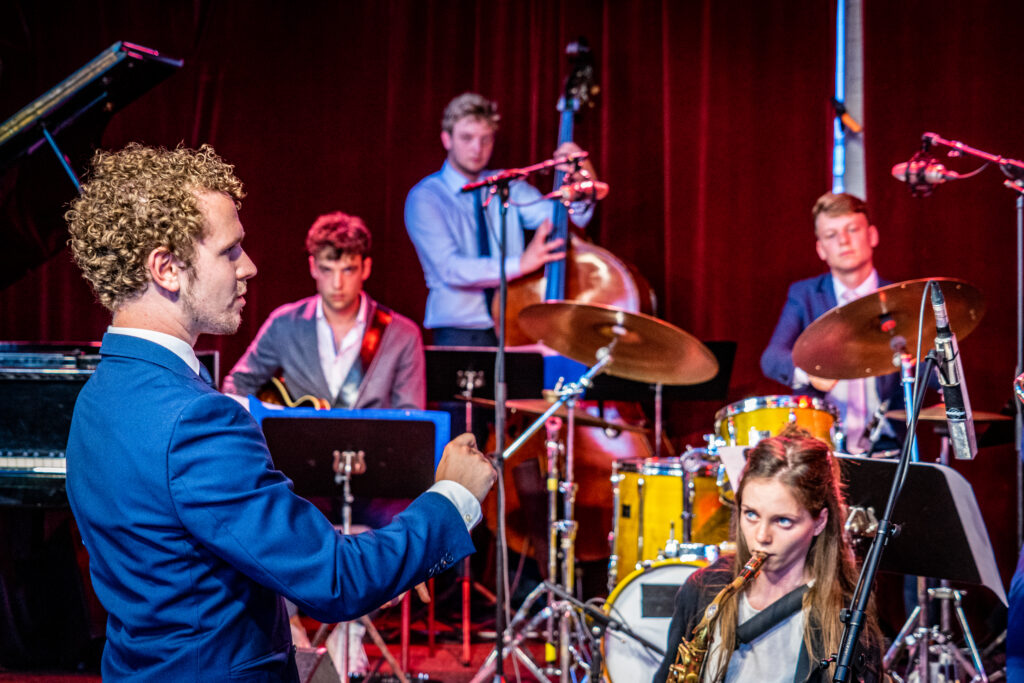 The goal of the Chris Muller Bigband is to conserve and enrich the Dutch big band culture. With original work and arrangements by Chris Muller, the band simultaneously respects the traditional big band energy and flirts with modern sounds, never losing the swing and groove. Together with the young and energetic appearance of the band this will offer audiences inspiring, innovative concerts. With this, the band will make jazz more accessible for a wide audience and younger generations.
Saxophones:  Miguel Valente, Jeline Weening, Oleg Tkachenko, Fleur Peereboom, Pepijn Mouwen
Trumpets:      Alvaro Jimenez, Nils Attermeyer, Álvaro Rey, Pablo Castillo, Dima Loginov
Trombones:   Bart Bergmans, Maarten Combrink, Matteo Paggi, Jeroen Vermazeren
Rhythm:          Yannik Sieburg (guitar), Ton Felices (bass), Tim Hennekes (drums)
Chris Muller:  piano, compositions/arrangements, conducting