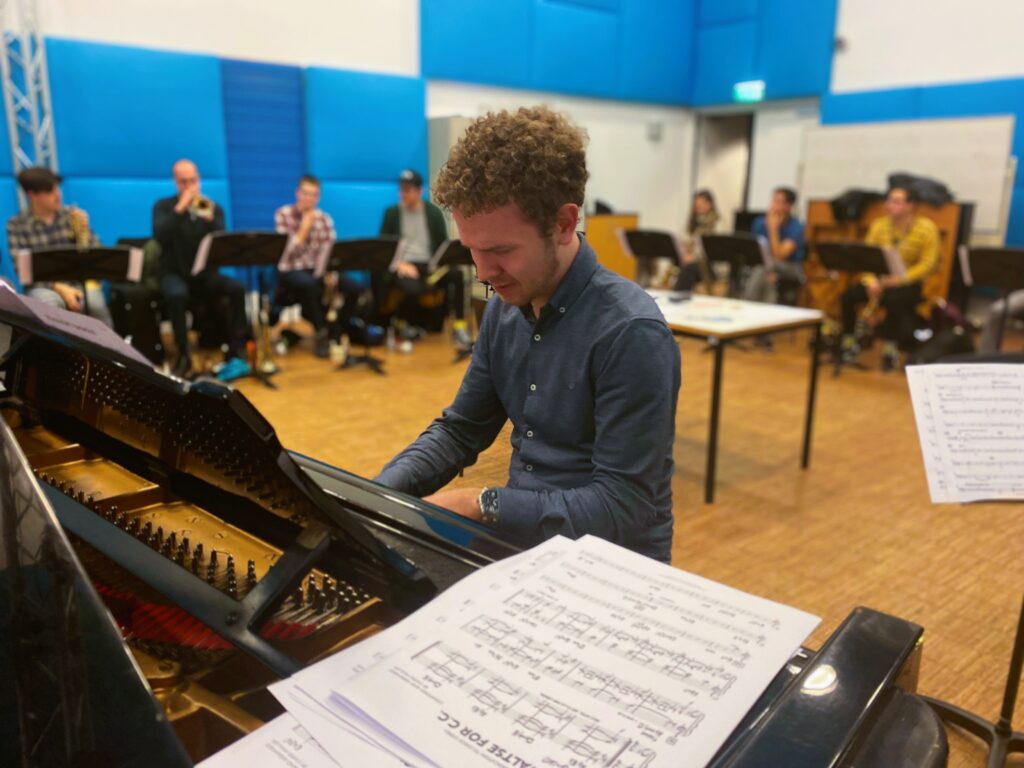 Chris Muller (Nijmegen, 1998) is a Dutch pianist, composer, and arranger. He started playing classical piano at a young age but found his passion in jazz soon after. After getting a bachelor's degree in applied physics at the TU/e at the age of twenty, he decided to start a study jazz piano and was admitted at the Conservatory of Amsterdam (CvA). In Amsterdam he has been studying since 2019, with Rob van Bavel, Karel Boehlee and Harmen Fraanje. Chris has shared the stage with many musicians from the Dutch jazz scene and played with many orchestras, as for instance the the Jazz Orchestra of the Concertgebouw.
As a bandleader Chris plays with his own trio, and as a pianist, conductor, and arranger he leads the Chris Muller Bigband. This band was founded in 2021 and now is one of the youngest professional big bands in the field. Also, Chris works together with Steve Galloway, former member of the Basie Bigband, to form the Galloway | Muller Collective. As sideman Chris has been part of multiple bands and orchestras, such as the Jong Metropole, BOSCO and the Dual City Concert Band.
In 2016, Chris took part in the prestigious Prinses Christina Jazz Contest with De PuBi's, winning a first prize and the audience price in the large ensemble category. In 2019, Chris took part in the same contest as a soloist, resulting in a second place. The jury spoke about "very mature jazz", "outstanding communication" and expressed their appreciation for the brand-new composition Turning Thoughts.
Chris started writing for large ensembles at the age of seventeen as pianist of the Eindhoven Jazz Orchestra. During a three-year period, he learned many basic jazz concepts and gained much experience both playing as arranging-wise. At the CvA he continued his writing and started to study arranging with teachers as Johan Plomp and Henk Huizinga. Also, here he had the chance to share his work with arrangers as John Clayton and Florian Ross. Chris had the opportunity to work with various orchestras as the Jazz Orchestra of the Concertgebouw, the Millenium Jazz Orkest and the Jong Metropole, and soloists including Dick Oatts and Gerald Clayton.